Six days into the new year and most people have written their lists of resolutions. They have looked back on the year that has passed, reflecting on what has happened, perhaps thought about successes, assessed what they would like to differently in the future for those less successful times. This blog is no different. There are many notes that I have scribbled down over post-its on my desk or the pages of my journals and one of them dirrectly relates to my knitting.
You see, earlier this summer I had the idea to knit a sweater for a very special gentleman in my life. I worked, in secret on this sweater waiting, until I could reveal it as the perfect, well thought out, and crafted with care present I envisioned it to be. As I was knitting it, I kept having the nagging feeling that something wasn't right. But I pushed those feelings down and kept blindly following the pattern. I've been known to go rouge on patterns at times, and I was determined to put my head down and follow the pattern to the t. All of this was going fine and dandy until the gentleman opened my gift, and prompltly drowned in my sweater.
You see, I had knit something large enough to fit not one but TWO adults. So, this sweater had to be ripped out and knit over again. I was able to save the sleeves and just rip back the shoulder caps but the entire body was a gonner. It languished for months until I mustered up the courage to start ripping that sucker out. Over Christmas I recast on. I'm hoping to finish it by end of February hoping that it can see some sweater weather this winter.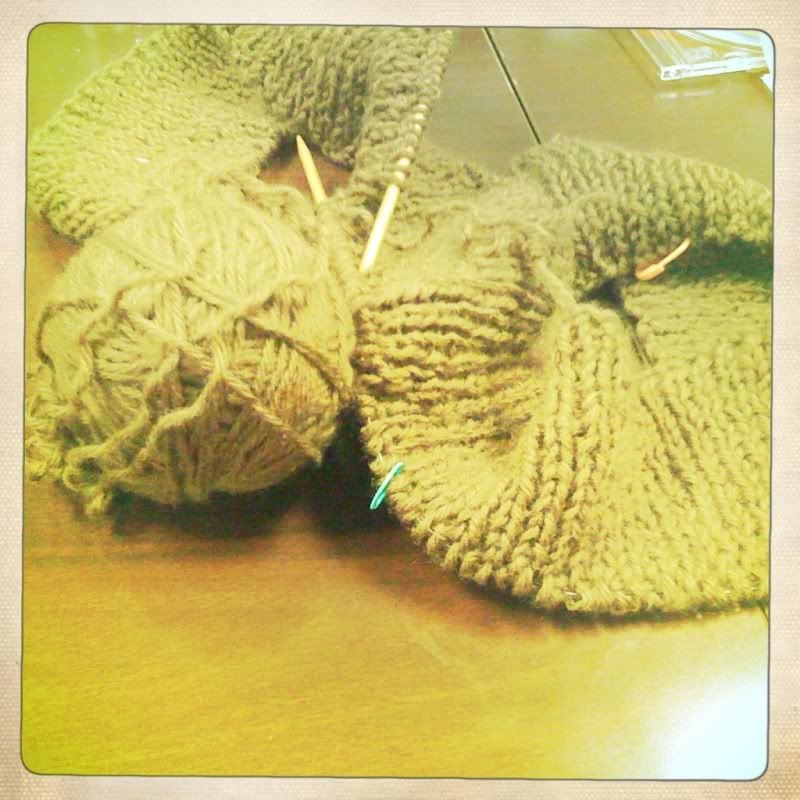 In frogging this sweater I started to think about some of the other projects I have that don't work for me. Although I loved knitting
The Dollar and Half Cardigan
. I've never actually worn it. It was the first sweater I made and there are some changes I would make (like remembering I have the worlds shortest arms EVER and I need to not knit the recommended lengths, ever.) Other sweaters like
The February Lady,
just really aren't my style anymore. So, I have made an executive decision. I need to be using, and loving the things that are in my life. 2012 is all about making what I have work for me. The February Lady has been frogged for good, and the dollar and half is in the process of being frogged to be re-knit. Sometimes it can be hard to re-do projects, or to let go of them all together but there's no use in keeping them in my life when they aren't working for me. This year is about doing more with what I have and one of the ways to do that is to re-purpose the things that are already in my life. Sometimes that means letting go of things to make space for something new and sometimes it means starting over, and trying again. The best part of re-doing a project is getting to use the experience of making it the first time around. Thanks to
Allyson
for being my co-model and here's to 2012.